A game-changing electric car heads to production. The Lightyear 0 is an electric car, but it also uses solar power to recharge the batteries. Unlike previous cars with solar roofs, this car sends the solar energy to the batteries to replenish them. Lightyear is a Dutch company that first brought the Lightyear One to our attention, but that car is dead, and the Lightyear 0 takes its place.
The world's first production-ready solar car is the Lightyear 0
2023 Lightyear 0 | Lightyear
Much like other electric cars, the new Lightyear 0 shows its aerodynamic features to squeeze every bit of electric juice out of the batteries. Inside EVs tells us the outer body panels are made from reclaimed carbon, mostly carbon fiber that would go to waste if not used in this car. This is only the start of the sustainable nature of this car.
The materials used in the cabin feature plant-based leather, fabrics from recycled bottles, and wood trim from sustainability-restructured rattan palms. This ensures a cabin that offers as many sustainable materials as possible in this impressive solar-powered car.
The Lightyear 0 is a car you leave outside
Sun Shining on the 2023 Lightyear 0 | Lightyear
This impressive car doesn't simply run on solar power. Lightyear designed it to be an electric car that also collects power from the sun to replenish the batteries. According to MotorTrend, if this car is exposed to the sun all day, it can add up to 43.5 miles of driving range to the batteries. This means if your commute is 22 miles or less, you won't use much of the battery power you started with in the morning.
How is this car capable of collecting so much solar power?
The Lightyear 0 features 54 square feet of solar panels on top o the car, which delivers power to the batteries. Instead of using a gasoline range extender, like many plug-in hybrids, this car uses solar power to give it the extended range desired.
The shape of this electric car contributes to its efficiency and energy savings. The drag coefficient is almost nonexistent at 0.19, making it one of the slickest cars in the world. Optional rear fender skirts increase the aerodynamics, which Lightyear says, without them, the car loses up to 7 miles of driving range per charge.
What's the driving range of the Lightyear 0 electric car?
*{padding:0;margin:0;overflow:hidden}html,body{height:100%}img,span{position:absolute;width:100%;top:0;bottom:0;margin:auto}span{ height:1.5em;text-align:center;font:48px/1.5 sans-serif;color:white;text-shadow:0 0 0.5em black}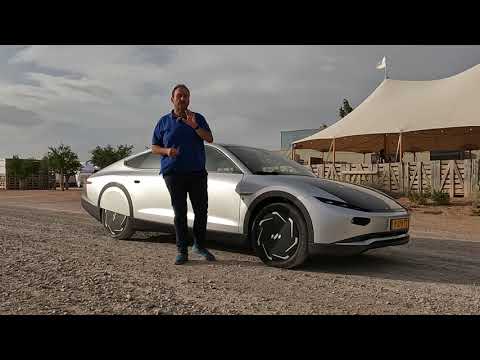 *{padding:0;margin:0;overflow:hidden}html,body{height:100%}img,span{position:absolute;width:100%;top:0;bottom:0;margin:auto}span{ height:1.5em;text-align:center;font:48px/1.5 sans-serif;color:white;text-shadow:0 0 0.5em black}