Range of up to 500 miles
High-performance Quadrifoglio variant expected
Due to arrive in 2025
Alfa Romeo is beginning its push towards becoming an all-electric brand by 2027, and one of the marque's first vehicles to receive the EV treatment will be the Giulia sport saloon. Our exclusive renders show what the electric Alfa Romeo Giulia could look like, with the new car set to be underpinned by an entirely new platform, allowing a range of around 500 miles.
Top 10 best electric cars 2022
When it debuted back in 2016, the Giulia received critical acclaim for its jaw-dropping looks and impressive handling. Despite making the switch to electric, we expect the new car to continue this reputation. As you can see from our render images, the electric Guilia will take design inspiration from the Alfa Romeo Tonale SUV. As is the case with all Alfa models, the front of the car will be dominated by the brand's iconic 'Trefoil' grille; however, given that the new Giulia will not have an engine, this will likely be blocked off to aid aerodynamic efficiency.
Flanking either side of the grille will be a set of slim LED headlights that converge towards the nose of the car. Further aerodynamic improvements could be made in the form of flush door handles and perhaps inserts for Alfa's unique 'Petal'-design alloy wheels.
Peel away the new car's inevitably gorgeous exterior and underneath you will find something almost completely different to the model it replaces. The new Giulia will sit on parent company Stellantis' new STLA Large platform; this has been specifically designed for electric cars and can house battery sizes of up to 118kWh. With such a large capacity, we can predict that the new electric Giulia will have a range of around 500 miles – significantly more than anything currently on sale.
Of course, a new Giulia model will also raise questions surrounding a potential Quadrifoglio high-performance variant. This – to what we are sure would be a disappointment to many – would likely ditch the current car's Ferrari-derived six-cylinder engine in favor of a powerful set of electric motors. Do not dismiss the electric Giulia Quadrifoglio that quickly, however, as the car's dual-motor setup would provide all-wheel-drive grip and up-to a monstrous 886bhp; 0-62mph could take as little as two seconds thanks to the instant power from the electric motors.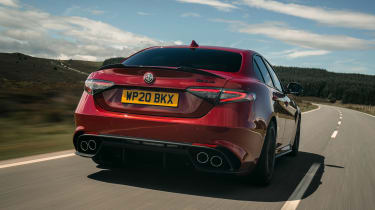 If all that power seems a bit unnecessary, standard Giulias will likely use a single rear-mounted electric motor with up to 443bhp. That's not to say the standard car will be any less exciting to drive; the low center of gravity provided by the electric motors should mean the new Giulia handles just as well as the old car, despite the fact it will undoubtedly weigh significantly more.
Alfa boss Jean-Philippe Imparato has also stated that the brand will be experimenting with ways to make electric cars more engaging. Speaking to our sister publication, Auto Express, he said they could implement "some new sounds and movements" to enhance the experience.
"I would love to have this 'light is right' tagline for Alfa Romeo… Even if I have one ton of battery behind me, I want to convey an idea of ​​lightness – even if I am electrified. It's a fundamental of Alfa Romeo and we are building this new range based on that."
So when can we expect this new Giulia? The current model has been on sale for six years now and despite a mid-life update in 2020, it is already feeling outdated compared with the likes of the Mercedes C-Class and BMW 3 Series. Alfa Romeo has confirmed that its first EV will be coming in 2024 which, to no surprise, will be an electric SUV.
A more likely timeframe for the electric Giulia will be sometime in 2025, as the manufacturer has already signed off plans to release one new EV per year heading up to 2027. At this stage it is difficult to hazard a guess in terms of pricing, but a starting price of around £50,000 would put the Giulia in-line with rivals such as the BMW i4.
Can't wait till 2025 for a sporty EV? Check out our list of the top 10 best hybrid and electric performance cars