Genesis, Hyundai's premium arm and a fledging player against other luxury players like Audi, Mercedes-Benz, BMW, and Lexus, believes its electrified stance will be key to its success going forward.
While the Korean newcomer has spent the last few years fleshing out its range from a sedan-only offering at launch, to one which includes luxury SUVs in the popular mid-size and large segments, sales have thus been far slow.
To combat that, Genesis said it aims to not only boost visibility for its brand, but establish itself as a leader on the electric front, bringing sports luxury buyers things they cannot get from rivals.
"We'll have a lot of new test drive centers," a spokesperson for the brand said. "We're increasing the number of physical locations so people can actually see and drive the cars.
Read more about the Genesis GV70
"We also want to be a leader in that electrification space. We don't want to be so arrogant as to say we will be the leader, but it's certainly the aspiration for the brand.
"We'll also be bringing some unique experiences. A lot of customers now are looking for brands which align with them and their personality. We've found some success so far with those customers who say: 'I want to stand apart – I want to have a bit of the future.'"
While the brand's representatives wouldn't be drawn further on what those "unique experiences" might look like, they did point to the more unique elements of the GV70 Electrified mid-size SUV and G80 sedan, as well as the high level of specification which set them apart from rivals.
The incoming electrified Genesis models feature two-way power flow and 800v ultra-rapid charging capability.
"The interesting thing is our research shows once you tick the range box, customers just want the highest level of spec possible," the spokesperson said. "We're seeing a number of customers who were using an EV as their everyday car and have a second combustion vehicle for longer trips. I think the range on these vehicles more than satisfies the demand for both efficient city driving with enough range for longer distance trips.
"Things like two-way charging and the 800v architecture draw some interest in it's hard to know if they are make or break, but the solar panel on the G80 – that's actually an answer to one of the most common questions we're getting from buyers' Does it have solar? Can it charge itself?' It has that 'wow factor' a feature we can physically show people – even if it is a trickle charger type affair."
Genesis said since it turned on expressions of interest for its fully electric range – encompassing the GV70 Electrified, G80 Electrified and GV60 – it had received over 1800 applications, well in excess of supply, and that most of the initial demand will go to the hero GV60 which sits on Hyundai Group's bespoke electric e-GMP underpinnings, the same as the Hyundai Ioniq 5 and Kia EV6.
"The GV60 – if you're following the EV market, that's the one you'll be most aware of and it is our hero offering. We expect demand to well outstrip supply. We're not being arrogant there, but if you look at the market and what that car offers it makes sense," the spokesperson said.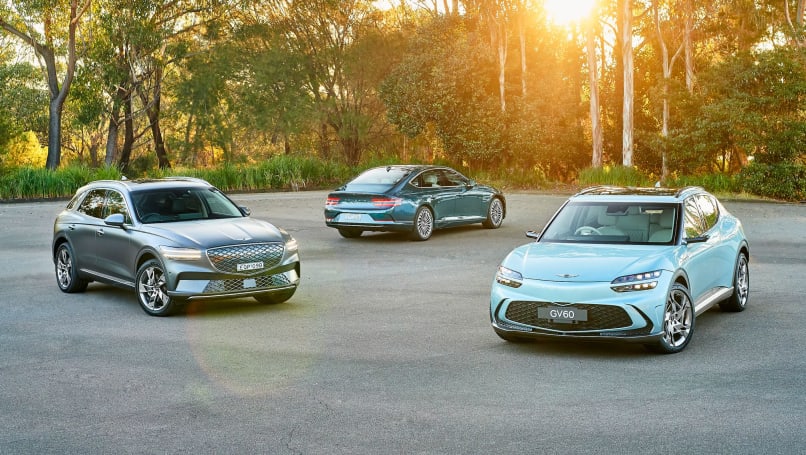 Genesis will flesh out its EV offering with three new fully electric models this year.
All three of the electric Genesis models will arrive in Q3 of 2022, with the GV70 and G80 wearing pricetags in the region of $105,000-$115,000 and $140,000-$150,000 respectively, according to the brand.
While the GV60 is the hero vehicle sitting below the others both in size and expected price, the GV70 and G80 Electrified models are the first electric vehicles based on combustion platforms with 800-volt architectures in Australia. The GV70 will go into battle with the Mercedes-Benz EQC (from $124,300 before on-road costs), Audi e-Tron (from $139,900) and Jaguar i-Pace (from $137,832), while the G80 will rival the Mercedes-Benz EQE which is also due to arrive in Australia in late 2022 though pricing for that model is yet to be confirmed.